Using Etsy to Find Unique Gifts is easy and fun! Browsing on Etsy is a fantastic way to locate gifts for anything from holidays to housewarming. This post contains affiliate links which, when purchased through, add no cost to the consumer but help support this site with a small commission to continue bringing crafts and tutorials.
Etsy is hugely popular in the maker space. As a creative, I have sold and bought on Etsy for years, but even my dad has been checking out Etsy here lately. For someone who has never shopped on Etsy, it can seem like a vast shopping space. Today I want to take you through and briefly demonstrate how easy it is to shop for that perfect gift on Etsy!
Etsy is a great shopping resource for:
Any holiday, but I always love checking out their options for Mother's day or family birthdays
Graduation gifts
Housewarming gifts
Personalized gifts
Vintage item shoppers
As a crafter, I also like finding unique crafting blanks or other crafting supplies. I have found awesome items in this category on Etsy, too.
About Etsy
Etsy is a seller marketplace. There are thousands of sellers on Etsy. These sellers use Etsy to set up their own shop. Do you ever visit physical vendor shopping spaces? Imagine Etsy like this, except it is totally online. Item prices, shipping policies, and customization options will vary even on similar items because each shop is allowed to set their own policies.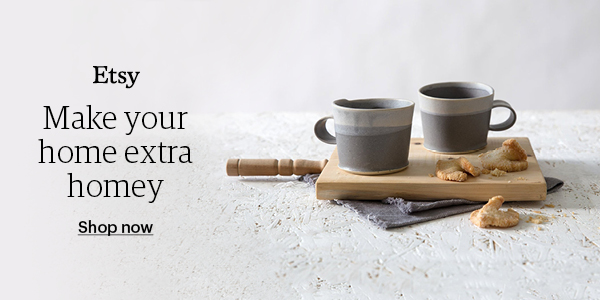 Create an Account
First, create an Etsy account. Some items may be able to to purchased with a guest account, but there are advantages to creating an account, so I always recommend doing so. With an Etsy account, you'll be able to add items you love to your favorites section, post in the community, and utilize Etsy's messaging system to communicate with shop owners.
Find an Item
Search for an item. The search bar is an easy way to find something specific or click the different categories to browse suggested items for different occasions.
If you are looking for an item in the following categories, check out my favorite's lists for:
One of the perks of maintaining a favorites list is that I receive notifications if an item on the list goes on sale!
Pay Close Attention to the Shop Policies
Once you've found an item that you love, check out the policies for that shop. One of the biggest mistakes that I have found for shoppers new to Etsy is that they do not thoroughly read over the individual shop policies. This can lead to frustration over shipping, returns, exchanges, refunds, customization, etc. All of the shop owners that I have ever dealt with have been clearly forthright about their policies. If the shipping timeline and customization options work for you, you're ready to purchase! If you have a question for the seller (such as on customization options or colors), reach out to them directly before purchasing.
Etsy makes checking out easy. However, sellers are allowed to choose what type of payment methods that they accept. Purchase your item, making sure to list any customizations or communications that you would like to relay to the seller.
After Purchasing
Allow for the advertised shipping time. You may contact the seller if you have questions about your shipment before or after it arrives.
For more shopping on Etsy, be sure to check out these gift guides: