This Perfect Oven Baked Potato recipe and shop has been compensated by Collective Bias, Inc. and its advertiser. All opinions are mine alone. #SummerSoStrong #CollectiveBias
Around these parts, summer means we replace the slow cooker with the grill. Within the past year, my husband has finally perfected the art of grilling meat. From steaks to chicken to kabobs, he puts our grill to the test several times a week. I'm in heaven, not only because of the salivating recipes that he creates, but also because it means that, for a few months out of the year, I am only in charge of making the sides.
We often have company over for dinner during the summer. Sometimes these gatherings are planned, but we also have impromptu cook-outs. From college students we haven't seen in a while to a family member in town for the week, we like to stay prepared to celebrate summer with any guest who pops in "just because." I enjoy stocking up on backyard barbecue basics, like Dixie Ultra® paper plates and easy veggies, because who wants to stay indoors washing dishes and working on complicated recipes? Not me!
Baked potatoes complement any grilled main course. I like keeping russet potatoes on hand for a few reasons.
They are an inexpensive side.
While the potatoes may take an hour or so to bake, they require very little prep and can be thrown in the oven in minutes.
By including an array of toppings, guests can customize their baked potato to their liking.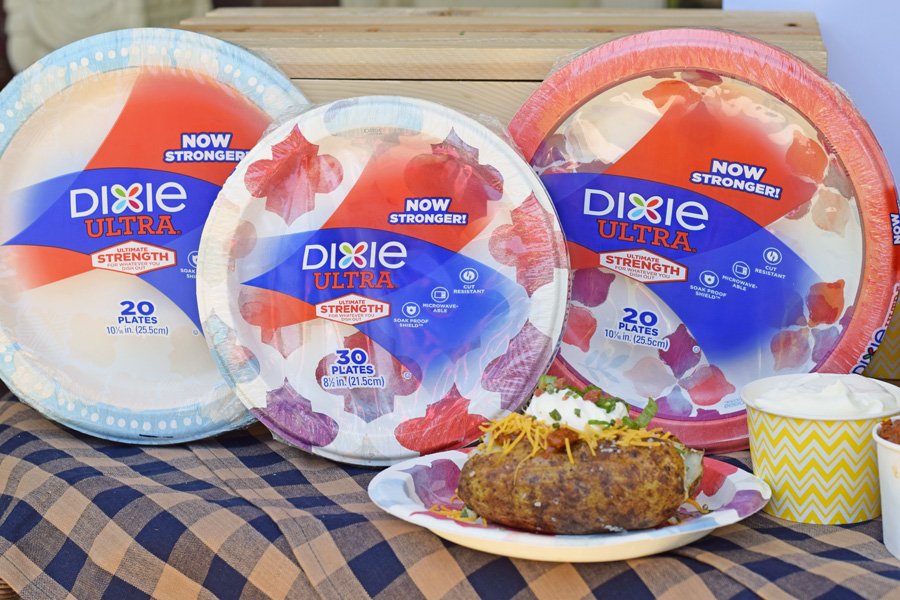 Interested in finding Dixie Ultra® Paper Plates for your next party? Hover over the photo and click through to purchase them!
Here is how I make my Perfect Baked Potato at home for entertaining:
Ingredients:
Russet potatoes (as many as needed for guests)
Avocado oil
Pink Himalayan salt
Preheat the oven to 350 degrees F.
Wash the potatoes thoroughly and pat dry with a paper towel.
Using a sturdy fork, poke 10-12 holes around each potato.
Place the potatoes in a large bowl. Drizzle avocado oil over the potatoes. Toss the potatoes to coat.
Sprinkle pink Himalayan salt over the potatoes, making sure that all potatoes are evenly salted.
On a large cookie sheet, place the potatoes. Insert the sheet into the pre-heated oven.
Bake for approximately 1 hour (this may need to be adjusted if baking a large group of potatoes).
Let the potatoes stand for about 10 minutes. Serve with toppings, as desired.
I enjoy creating a pop-up Baked Potato Bar for guests. With a few food items that I already have in my kitchen, guests can make their favorite baked potato combinations.
Topping ideas for a Baked Potato Bar:
Sour Cream
Bacon pieces
Shredded cheese
Chives
Fresh green onion
Chili with beans
Salt
Pepper
Butter
Coconut oil (I like placing a dab of coconut oil in between the potato and then closing the potato back up so that the oil melts. It is delicious!)
Grab Dixie Ultra® Paper Plates to withstand the heaviest, messiest meals (like these loaded potatoes!).
Paper plates that collapse under a meat and potatoes meal are a bummer for any outdoor gathering. With Dixie Ultra® Paper Plates, I know that I am serving a microwavable, recyclable, cut resistant plate that can handle up to 2 pounds of food (*weight for the 10″ plate only). The plates have a new, innovative rim and are made with FlexProof™ Technology, leaving me confident that they can withstand whatever meal that we dish out.
Dixie Brand on Facebook  |  Dixie Brand on Instagram   |  Dixie Brand on Twitter
Check out the new packaging and new designs in Target stores, and save 25% on Dixie Ultra® with the Cartwheel app from 6/18/17-7/1/17. The co-create plate design is exclusive to Target.
For more summer recipe inspiration, click here!