It can be tough to find appropriate stocking stuffers for toddlers. They can't have things that are a choking hazard, but yet they are at that age where they may like something interactive. Trust me, I know the struggle- I have three toddlers to stuff stockings for this year! So I've compiled a list of Stuffing Stocker Ideas for Toddlers today. Below are ten stocking stuffer ideas that are pre-made and can just be bought and ten stocking stuffer ideas to DIY.
10 Ideas to DIY
Do you crochet? A new winter hat would make a great stocking stuffer! My girl Sarah from Repeat Crafter me has many hat patterns on her website. The below Drowsy Owl Pattern is one of my many favorites, but she has many others from which to chose!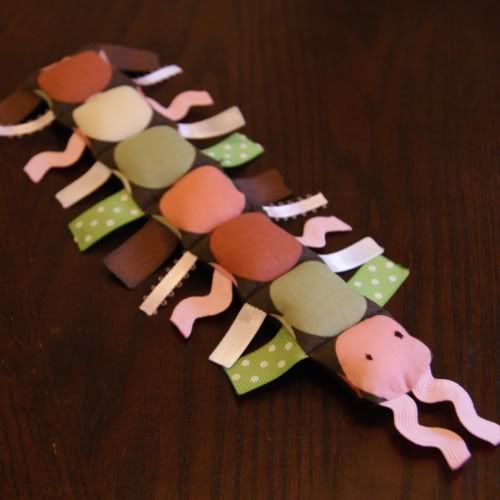 This Very Taggie Caterpillar from Happy Hour Projects is cute and will fit nicely into a stocking!
This DIY Flip Book from Momdot is a great way to have a daily conversation about special people in a toddler's life.
I've always wanted to make a Quiet Book but have never gotten around to it. And, now that I have three toddlers, I doubt that I will be making three quiet books. For those who want to make a Quiet Book, this pattern from Artsy Fartsy Mama looks cute!
The colors for this Scarf with Secret Pockets from Cherished Bliss can easily be changed for a girl or kept in colors for a boy!
These DIY Toddler Hand Warmers from Our Thrifty Ideas will come in handy for cold days.
The kids don't have to have a play kitchen in order to enjoy felt food. I like this Felt Breakfast Food Set from Naptime Creations.
HTV shirts or onesies will roll up nicely into a stocking. For heat transfer vinyl shirt ideas, see these SuperHero Onesies from While He Was Napping or this Heart Onesie or Mommy Loves Me Shirt from me!
I know from experience that toddlers aren't necessarily into bibs, but moms still need them on occasion (think- spaghetti!). Use their thick infant towels to make toddler sized bibs.
If you're feeling particularly creative, this Elephant Push Toy shared over at Mod Podge Crafts is a fun DIY stocking stuffer. Change up the colors to your child's favorite.
10 Ideas to Buy
This list may contain affiliate links.
Toothbrush– My kids like to "chew" on their toothbrushes, so they can always use a new one!
Bath toys– My boys love splashing and playing in the bath, and toys make it just that much more fun. I'm really liking the Nuby Octopus Bathtime Toss, the Munchkin Lazy Buoys Bathtub Toys, the Nuby Splash 'n Catch Bath Time Fishing Set, and the Nuby 16 Piece Bath Tub Foam.
Favorite Snacks– Do your kids have a favorite toddler cracker or biscuit? A can of HAPPYBABY Organic Puffs
makes a great stocking stuffer.
Play Phone– Talking on the phone may be one of the first ways toddlers play pretend. Mine have numerous pretend conversations to, well, somebody every day. A fun play phone
will fit perfectly into a stocking!
A New Lovey– I think this fox lovey is super cute for a little boy or a little girl (and it has a hedgehog lovey buddy if you click through to check it out).
Shoes– Take advantage of little feet that still have shoes that will fit in a stocking. Their new kicks can slip right in!
Ornament– While this isn't necessarily child safe, I started a tradition of purchasing my kids a Christmas ornament every year. It's an ornament that is representative of them and what their interests have been for the year. Place it in the stocking, and after they've emptied the stocking, mom or dad can place it in a keepsake box.
Bendy Ball– My boys have a version of this ball, and it is one of their top play things!
Little Car– This Pop N Push Car is a fun take on a traditional push car, and it's small enough to fit in a stocking.
Teething Toy– Is your toddler still teething? Mine are almost out of the stage, but I'm expecting their two year molars to come in soon, and a new teething toy may be a great stocking stuffer idea. This one from Nuby is a best seller on Amazon.
Looking for other stocking stuffer ideas? Check out these collections!
Stocking Stuffers for Sports Fans from The Benson Street
Stocking Stuffers for Bacon Lovers from 4 You With Love
Stocking Stuffers for Men from Happy Go Lucky
Stocking Stuffers for Teens from Seven Alive
Stocking Stuffers for Women from Lil Miss Tori
Stocking Stuffers for Toddlers from It Happens in a Blink