This shop has been compensated by Collective Bias, Inc. and its advertiser. All opinions are mine alone. #GPHolidayAtHome #CollectiveBias
For years now my husband and I have been planning and hosting a Progressive Dinner during the holiday season. When we were first introduced to the concept of a Progressive Dinner, we had no idea what it was! A Progressive Dinner takes much planning, but it makes for a memorable holiday party. Read on to get my tips and tricks for planning your own, and I'll even help you get a jump start on planning your menu with a (real cheese) Queso Dip recipe!
What is a Progressive Dinner?
A Progressive Dinner consists of an appetizer portion, a main course portion, and a dessert portion. However, each portion is hosted at a different home. It takes a minimum of 3-4 hours for travel and eating. In our case, we plan a Progressive Dinner as the holiday party for our youth group. We visit one house for the appetizer and play a few games there. Then we leave and head to the next house for the main meal and more games. The group wraps the party up with dessert and coffee at the last house.
Depending upon your group, it can be difficult to plan for the amount of people attending a Progressive Dinner. We do not require our students to sign up in order to be able to attend; they simply arrive the night of the dinner. We have had anywhere from 15 to 30 students participate, which can be a big difference when planning seating and food at your house for a group! Here are a few tips for planning a stress-free Progressive Dinner.
-If possible, plan the dinner houses no more than 15-20 miles apart. Houses that are far apart lengthen the dinner, and participants have to spend too much time on the road.
-Begin planning at least 2 months in advance. Determine the homes that you will be visiting and the dates and times. The holidays are a busy season for everyone, and advance planning will make a Progressive Dinner run smoothly.
-If you are hosting one of the meals in your home, make a list of all the items that you can buy in bulk. Purchase these over the course of a month or so to save money.
Hover over the image below to grab Georgia-Pacific essential products from Dollar General!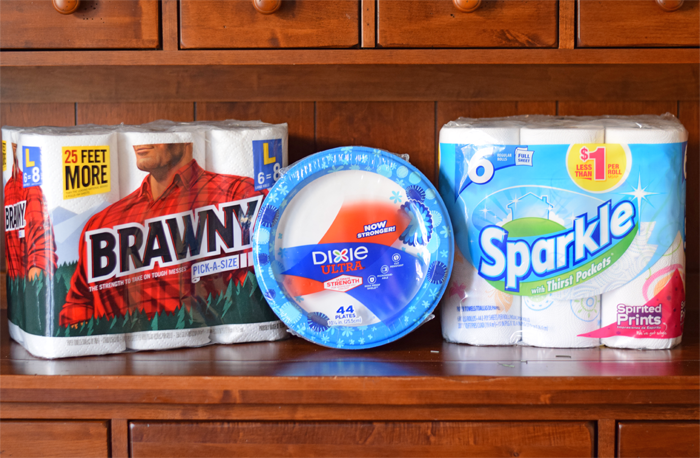 We live in a rural area, and we have no big box retailers. Dollar General comes in handy for stocking up on party essentials while making my dollar go further. From affordable Sparkle® paper towels to durable Dixie® Everyday paper plates to tough Brawny® Paper Towels, Dollar General is a one-stop shop for daily items. Find your local Dollar General here and get more holiday entertaining inspiration here and here.
Stock up for the holidays and make your dollar go further with these awesome Georgia-Pacific essential products at Dollar General. Starting 11/20/17 through 12/23/17 only, Buy 3 Participating Products, Save $3! (Valid on Angel Soft® 12 Family / 12 Big Lavender, Sparkle® 6 Roll, all QNUSS 9 Mega and QNUP/QNUSS 12DR, Dixie® Everyday 9in 86 ct, Dixie Ultra® 10in 44ct, Brawny 6 Large Roll, Mardi Gras 200 ct)
-Consider seating and table space. One year I completely forgot about seating. I found myself grabbing old chairs out of the basement five minutes before everyone was supposed to arrive. Borrow or rent additional chairs and/or tables ahead of time to skip seating issues before or during the gathering.
-If you are not planning the entire dinner yourself, as the event organizer how far in advance that they would like to know your menu. Some event organizers like to inform the guests of the menu ahead of time while others do not. This is allow you to plan your menu accordingly.
I have hosted the main meal portion of the Progressive Dinner every year that we have planned one.
Main meal ideas for a large group:
Pizza
BBQ
Hamburgers
Hot dogs
Baked spaghetti
Lasagna
Make-Your-Own Sandwiches
Nachos
Regardless of what main meal dish that I prepare, I always have Queso Dip and chips on the side. It's a hit with teenagers. I skip the prepared cheese product and go straight to the real cheese. The thick, lip-smacking dip has just enough spice.
Ingredients:
Pink Himalayan sea salt
(1/4) tsp. chili powder
(1/4) tsp. onion powder
(1/4) tsp. garlic powder
6-8 ounces fancy shredded cheese of your choice (I typically use mild cheddar)
1-2 cups of milk
(2) Tablespoons butter
(2) Tablespoons flour
Melt the butter in a medium sized pot. Once melted, add the flour. Whisk together for one minute. Add 1 cup of the milk. Continue whisking until the mixture thickens. Add the cheese, a little at a time, until it is melted. Add between 6-8 ounces of cheese, depending on your desired consistency. Add the chili powder, garlic powder, onion powder, and a few twists of the Pink Himalayan sea salt and stir. Check out the thickness of the dip and add milk, 1 tablespoon at a time, until it is the desired consistency.
Serve immediately. You may also make this ahead of time and then warm it in the microwave before serving.
Have you ever been to a Progressive Dinner or hosted one?