This Planner Pen Holder tutorial and shop has been compensated by Collective Bias, Inc. and its advertiser. All opinions are mine alone. #PilotYourLife #CollectiveBias
After the unscheduled waves of summer, life is about to get real, ya'll! My daughter begins school this month, my boys begin preschool, and my husband will go back to taking a few classes. My calendar changes from random date scribbles to colored lines that attempt to keep me aligned with everyone's different schedules.
I have no idea where I would be (or who would end up where) if it were not for my trusty planner. If it's not on my planner, then it is probably not happening. For this reason, I keep a pen on my planner at all times. If you are a planner junkie, too, then you know that most planners do not come with a pen holder. Here's how to use supplies that you may already have at home to make a pen holder for your planner.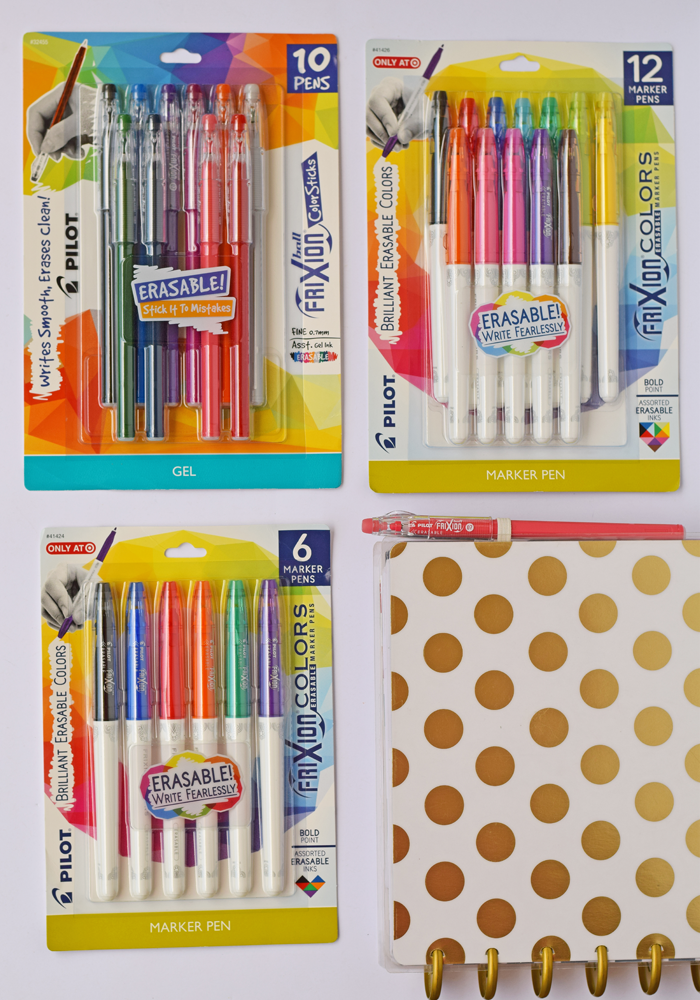 Hover over the above photo and click to view and purchase items pictured.
Supplies
:
Cut to size double-sided adhesive
Adhesive permanent vinyl
Scissors
Small piece of elastic
Cut (2) 1″ squares from the cut-to-size adhesive. Cut (1) piece of vinyl a bit larger than the adhesive. The photo below only shows one cut-to-adhesive, but two are needed.
On the inside of the front cover, place one of the double-sided adhesives. Fold the elastic and place it on the adhesive, making sure that it will hold a pen tightly. I hold the fold with my finger and give it a try before securing it. Place the other piece of double-sided adhesive on the elastic, leaving only the folded portion that holds the pen visible.
Remove the top adhesive liner.
Place the vinyl over the adhesive. All the pieces need to be pressed firmly to secure them.
I keep one pen on my planner at all times. I keep an array of others at my desk. I have a dedicated color for each family member, and when use these colors to write down notes, schedules, and things that I can't forget for each person.
Of course, plans and schedules change (sometimes often!), and I dislike the mess of scribbling in my planner. This is where Pilot FriXion ColorSticks Erasable Gel Ink Pens and Pilot FriXion Colors Erasable Marker Pens come into play. These smooth pens have vibrant color yet the thermos-sensitive gel ink formula writes, erases, and rewrites without damaging my planner.

The FriXion ColorSticks come in 10 colors, and the FriXion Colors Erasable Marker Pens come in 12 colors. They are a great replacement for regular pens and markers. The Pilot FriXion Colors Erasable Marker Pens are only available at Target. Find them all in the writing supply aisle and the back to school aisle at Target. Get more back to school inspiration here!