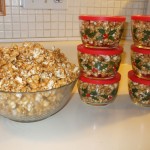 Hello, my name is Diane and I am so excited to a part of The Christmas in July Extravaganza with Melanie and all of you. I write a blog called Mamal Diane ~ keeping it simple. I write about cooking, my grand kids, I host contests and have a weekly share party on Tuesdays called The Gathering Spot.
I'd like to share with you all today a recipe for Caramel Corn that I make every Christmas to give to my family and friends. I try to find cute containers to put the carmel corn in.
It's really easy to make.
It makes a nice homemade Christmas gift and the kids can help make it too.
You'll need:
6 Quarts popped pop corn
2 Cups dry roasted peanuts (optional) or any nut you prefer.
1 Cup butter
2 Cups brown sugar
1/2 Cup corn syrup
1 tsp salt
1/2 tsp baking soda
1 tsp vanilla
Preheat oven to 250 degrees F
Place cooked popcorn and nuts in a bowl large enough so you will be able to mix it. I use a large disposable aluminum pan (which I wash and reuse). After it's mixed you can put it right into the oven. One less dish to wash.
Melt butter in a sauce pan. Stir in the brown sugar, corn syrup and salt. Bring to a boil. Stir constantly until it boils. Let it slow boil 4 minutes without stirring.
Remove from heat. Stir in vanilla and baking soda. Pour slowly over the popcorn. Stirring to mix well.
Spread a thin layer in shallow baking pan(s) you may need two depending on the size
Bake for 1 hour. Stirring every 15 minutes. Let it completely cool then break it up into pieces.
After you taste this you may not want to give any away. Enjoy!
Thank you again Melanie for allowing me to share my recipe with your readers. Stop over and visit my blog sometime 🙂