It's an unofficial Duck Tape Day around here! I'm sharing two Duck Tape projects that are guaranteed to be quick and easy holiday crafts. As part of the Craft Lightning Series, these Duck Tape Wrapped Tins take less than 10 minutes to make. I even have a video to prove it! I've been saving the mandarin orange tins that my kids go through like crazy. Do you like mandarin oranges? I think they are terrible! I don't even like the smell of them. But my kids eat them like candy. About a month ago, I began saving the tins to use for holiday gift wrapping and decor projects. I purchase the large mandarin orange tins, and they don't have the super sharp rims on them like traditional cans, making them great for crafts! A special thanks to Duck Tape Brand for the Duck Tape. I received it as part of the Crafty Hangouts series and thought that it would be fun to create more holiday themed projects with it.
Supplies:
Duck Tape
Sharp Scissors
Clean and dry tin can
Make sure the can is clean and dry. Begin by wrapping Duck Tape next to the top and bottom rims. Depending on the height of the can, the tape will probably not meet in the middle.
Add a coordinating strip of Duck Tape around the middle. If the can has those grooves on them, use the grooves to keep the Duck Tape aligned.
And that's it! Too easy, right? Use the cans for decor or for gifting treats. Bake your favorite cookies and wrap them in parchment paper or place them in a treat bag and place them inside the can.
This video is a testament to how fast this craft is! Even with my rambling and intro, the video itself is under six minutes.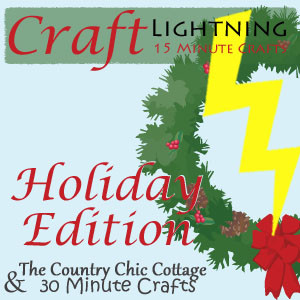 Want more recycled can crafts? Check out these!