I'm back with the Craft Lightning Challenge again this month? What's Craft Lightning, you ask? It's a challenge to create a themed craft that takes fifteen minutes or less to complete. This month the theme is Dr. Seuss. This Pick a Dr. Seuss Book Yarn Wrapped Can Craft came to be because of my daughter's new found reading skills. If you follow along on my Facebook page, then you know that she has improved her reading skills significantly over the past few weeks. Now we're reading books like crazy. She can be indecisive at times, so I thought turning the book choice into more of a game would be a good idea for her. This craft idea is quick and simple. In a nutshell, it involves wrapping a recycled can in Dr. Seuss colors and making craft sticks to go inside. Simple, right?
Supplies:
White yarn
Red yarn
Hot glue gun and hot glue sticks
Thin tip sharpie (mine was not thin tip, and I wish that it were!)
Clean and dry aluminum can
Blue craft sticks (thanks to CraftProjectIdeas.com for supplying these for today's craft!)
Using the hot glue to secure the ends, wrap the white and red yarns around the can. Alternate the color scheme. I would have preferred to have more red in mine to resemble a Cat in the Hat, but I ran out of red. Guess it's time to replenish the stash!
Write the names of the Dr. Seuss books that are in your library on the end of blue craft sticks. Be sure to write them small and on one end so that they are not visible from the top of the can. This is where the thin tip Sharpie comes in handy.
Place the sticks in the can, word ends down. Next reading time, let your child choose what book you'll be reading. It will simply come down to the luck of the draw! This will be helpful for parents who have children who want to read the same book each night, as well. They may be more compliant to switch it up if it's turned into a fun game.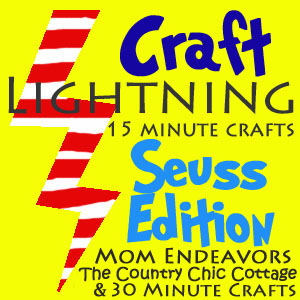 Want more yarn wrapping ideas? See one of these projects!