I have received information and materials from ©Johnson & Johnson Consumer Inc. 2017.The opinions stated are my own. This is a sponsored post. #ForBetterTomorrows #BetterTomorrows #FallBack #CollectiveBias
I'm partnering with TYLENOL® PM to bring this Chocolate Peppermint Smoothie recipe. 
Has the time change messed anyone else up or is it only me? With fewer hours of daylight, I feel like I am tired earlier in the day and more often. And what's going on with the kids? Even with the darker hours coming sooner, they still do not go to sleep earlier, and they still get up at the same time in the morning. I seriously need a jump start to my days.
It is no secret that the best jump start to a day is a good night's sleep. That can be easier said than done, though. A few years ago while volunteering at a youth camp, my husband ran too many laps around the basketball court. His legs and feet were aching to the point that he could not sleep. A fellow volunteer gave him a TYLENOL® PM, and it helped him rest. Pain can make it challenging to get a good night's sleep, and Walgreens and TYLENOL® are partnering to help those who are having issues with pain and sleepless nights.
Click the photo below to shop TYLENOL® PM. Use TYLENOL® PM only as directed on the product packaging.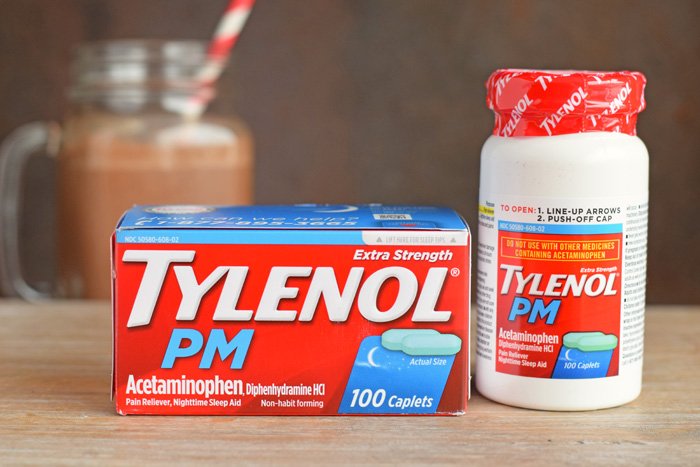 In addition to a good night's sleep, a quick and easy smoothie recipe is also a great way to jump start a day. This recipe can be made plain with no added sugar or topped with whipped topping.
Ingredients:
(1) cup unsweetened almond milk
(2) tablespoons unsweetened cocoa powder
1 frozen banana
(1/4) teaspoon peppermint extract
Honey to taste
Combine all the ingredients in a blender and blend until smooth. You may add another 1/4 teaspoon of peppermint extract if you wish to have a stronger peppermint flavor.
Find TYLENOL® PM at your local Walgreens. Learn more about TYLENOL® PM on their product page, on Facebook, or YouTube.
TYLENOL® PM contains a pain reliever and nighttime sleep aid. ©Johnson & Johnson Consumer Inc. 2017 The third party trademarks used herein are trademarks of their respective owners.