This shop has been compensated by Collective Bias, Inc. and its advertiser. All opinions are mine alone. #MyLiteracyStory #DGMyStoryEntry #CollectiveBias  I'm partnering with Dollar General to bring you my list of our favorite 11 Board Books for Beginning Readers. 
This past summer, I attempted to preschool the triplets at home. We focused on learning letters through play and letter games. Since the boys are the same age, I thought that working with them together in a group would be acceptable. The boys giggled their way through alphabet puzzles and magnet letters. They seemed to truly be making progress.
Until I separated them.
At this point, I realized that two of my boys had learned the entire alphabet while the other could only recognize a handful of letters. His creative mind only wandered while his brothers were concentrating on the alphabet. In honesty, he simply didn't care a bit about learning letters or reading.
I began helping him individually by creating games that appealed to his interests. He has progressed tremendously, and he even pretends to read his Star Wars books aloud to his brothers.
One thing that we have incorporated is letting the boys take turns in choosing their daily stories. These 11 board books are favorites that they choose time and time again. Have your little ones read any of these 11 Board Books that are great for beginning readers?
Hover over the image below to shop for Kellogg's® items that support the Dollar General Literacy Foundation.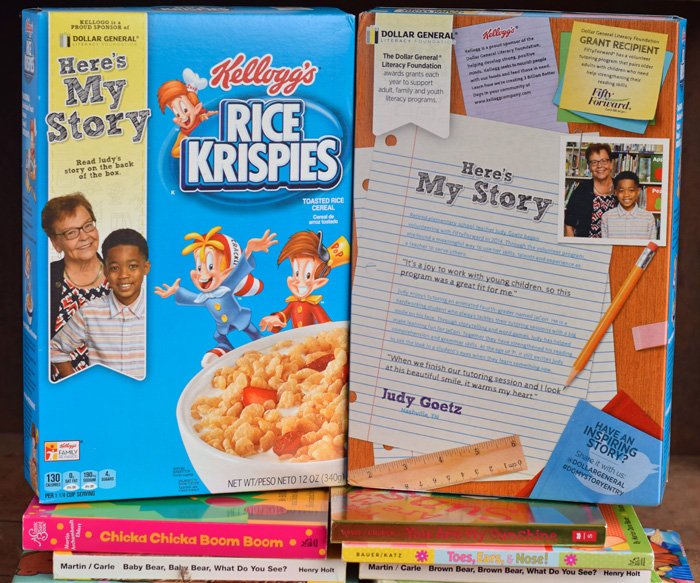 Eric Carle books
Aren't these favorites for kids? From the illustrations to the book content itself, these are great for beginning readers. Our copies of Panda Bear, Panda Bear, What Do You See?, Brown Bear, Brown Bear, What Do You See?, and Baby Bear, Baby Bear, What Do You See? are all well-loved.
Little Blue Truck is a family favorite. Even my husband participates with the animal voices.
Llama llama red pajama is a perfect bed time story.
You Are My Sunshine combines a familiar childhood song into a book format.
Ten Tiny Toes is a sweet little book for little ones.
Toes, Ears, & Nose! gets kids in on the action with lift up flaps.
My daughter first read Chicka Chicka Boom Boom in kindergarten. She liked it, and we were excited to find a board book version for her brothers.
This version of Three Billy Goats Gruff is a not-so-scary rendition of a classic.
Where's Spot? is another lift-the-flap book that allows kids to read while using their imagination.
Did you teach your children to read? Do you have your own personal literacy story? Kellogg's is a sponsor of the Dollar General Literacy Foundation. The Foundation, which is celebrating over 20 years of assisting individuals, has awarded more than $140 million to nonprofit organizations and schools that have helped more than 9 million individuals advance their literacy skills. Kellogg employees work towards delivering foods and brands that matter. Learn more about the the literacy initiative and enter the #DGMyStory Sweepstakes with the hashtag #DGMyStoryEntry. Share your personal literacy story for a chance to win a $50 Dollar General gift card.
I found inspiring inspiring literacy stories on select Kellogg's Frosted Flakes® Cereal, Kellogg's® Froot Loops® Cereal, Kellogg's Frosted Bite-Size Mini-Wheats® Cereal, Kellogg's® Rice Krispies® Cereal, and Cheez-It® Original crackers from Dollar General. It's great that Dollar General and Kellogg's are supporting this great literacy cause!