This post has been compensated by Collective Bias, Inc. and its advertiser. All opinions are mine alone. #NixUltra #CollectiveBias
Find out what you need to know about prevention and treatment of super lice with this Mom's Guide to Super Lice!
With four kids in the house, one of my biggest fears with back to school session is always head lice. My daughter has always been diligent about following all my guidelines, but the triplets are less concerned. For them, they are used to sharing items- from toys to clothing and stuffed animals- here at home, which creates an issue with them not understanding why I ask them not to share items certain items with friends at school. On one hand, they are awesome sharers, but on the other hand, hello lice risk!
I'm a firm believer in being prepared. I've researched the practices on preventing and getting rid of lice, even the new strain of super lice. Read on for a Mom's Guide to Super Lice as I share all that I have learned!
What are Super Lice?
Does the term"super lice" invoke a bit of terror? It does me! I automatically start scratching my head while cringing at all of the laundry I would have to do!
Regular head lice are bad enough without super lice, right?!?!? Super lice are actually extremely similar to regular lice. They like to live in a scalp (or eyebrows) and can cause itching and sores. However, super lice do not respond to traditional over-the-counter lice treatments. They are resistant to the ingredients in traditional treatments.
Get rid of super lice fast with Nix Ultra® Super Lice Treatment at Walmart. Click the image below to shop the product.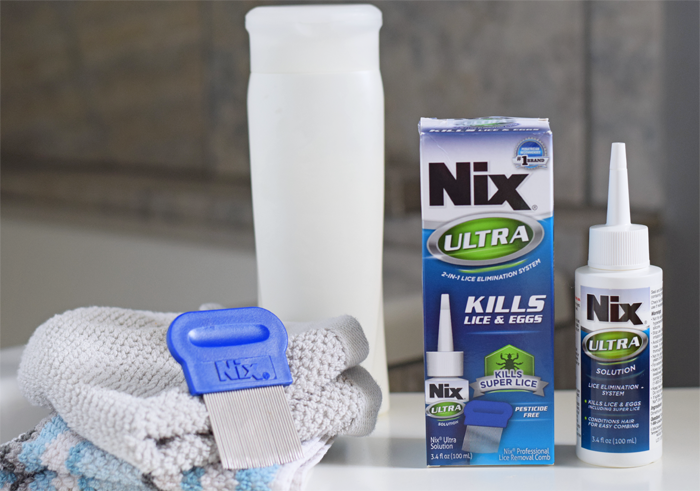 Of course, the best way to prevent a super lice spread throughout the home is to not bring them inside at all! Teach school aged children to not share the following items:
Hats
Hairbrushes
Elastic hair ties
Sunglasses
Coats/sweaters
Hair bows or hair bands
Nap-time blankets (for children in kindergarten who still may take naps)
Nap-time stuffed animals
In addition to not sharing these items, children should know to always place their items inside of their personal cubby or backpack at school rather than stacking them in a pile with everyone else's belongings. Coats are a natural culprit of this. Children should always hang their coat on their own hook or in their own locker.
If one child brings home super lice, it is possible to contain it to that child, though from a mom's standpoint very difficult. I know from personal experience that kids within the same home share brushes and blankets and maybe even a bed. If you have an only child or have the ability to contain the infected child's bedding and items, then stopping the lice spread with one child may be possible. But don't be upset up if this proves difficult in a large family setting.
One way to attempt to contain lice to only one child is to frequently inspect each child's head. This is easy if you're still helping your child bathe. Simply check their head during bath time. If children are of the age to bathe themselves, try to check their heads regularly at another time, like perhaps bed time.
Some moms have told me they believe in utilizing essential oil blends or lice prevention shampoos, but nothing is more effective than trying to abstain from sharing lice infected items.
Lastly, stay up to date on lice reports in your area with the Nix® Lice Tracker.
Treatment
If the day arrives where your child does bring home the dreaded super lice, grab a few supplies and get busy. The quicker your child is rid of the super lice, the better!
Pick up Nix Ultra® Super Lice Treatment from your local Walmart in the First Aid section. The Nix Ultra® Super Lice Treatment is a pesticide-free formula that kills lice and their eggs. It is fast, effective, non-toxic, and the number 1 pediatrician recommended brand.
It includes the treatment and the Nix Ultra® professional comb.
Follow the instructions on the back of the box to effectively get rid of super lice.
Apply the formula and wash the hair as directed on the Nix Ultra® Super Lice Treatment package.
Divide the hair into sections
Search for adult lice and their eggs. If you are not sure what lice look like, check out the Lice ID tool here.
Remove them with the Nix Ultra® professional comb. Place anything that you remove into a ziptop bag for disposal.
After taking care of the kiddo, it is time to get to work cleaning the house.
Remove all bedding and stuffed animals from the child's bed. Wash them in hot water with detergent. Dry in the dryer on high heat. To prevent spreading while changing the sheets, wear gloves and place the sheets and animals in a garbage bag.
Hot soak and clean any hairbands, hair bows, brushes, combs, hair elastics, etc. used by the child. Wipe down the child's car headrest and any place where they may lay their head on the couch. To be on the safe side, covering the couch with sheets for a few days is an option. Lice typically do not live off the head for longer than 48 hours. Basically, wash, wipe down, cover or quarantine anything that their head could have touched while with the super lice.
Click HERE to get a $3.oo coupon off of any ONE (1) Nix Ultra® product. While the offer is valid through 3/31/19, once the coupon has been printed, it will include an expiration date for 2 weeks.